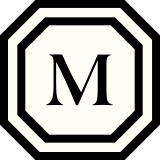 The Mark Silk Sleepy Mask
$25

Close your eyes and dream sweet with our specially crafted silk sleeping eye masks.  The plush silk covered eye masks provide light blockage to ensure the ultimate beauty sleep.
All packages are wrapped in The Mark's signature style
Black silk sleeping eye mask, marked with white eye lashes for a well-deserved night's rest. These 8.5 long and 3.2 wide eye masks include an adjustable back. These masks are packaged in a black silk casing designed with white eye lashes and The Mark Logo. The set includes ear plugs.
Click for full screen
---