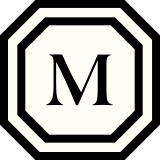 The Mark Portable Smartphone Charger
$90

Low battery? Do not worry. Our speedy Mark portable chargers are your solution to your low-charge anxiety, and are compatible with iPhone and Android devices.
All packages are wrapped in The Mark's signature style
The black portable iPhone chargers with The M logo on the front have Android and iPhone charger options and comes with a USB charging cable. This charger can be used by the iPhone 5 models and above. 2 inches wide by 4 ¼ inches tall.
Click for full screen
---